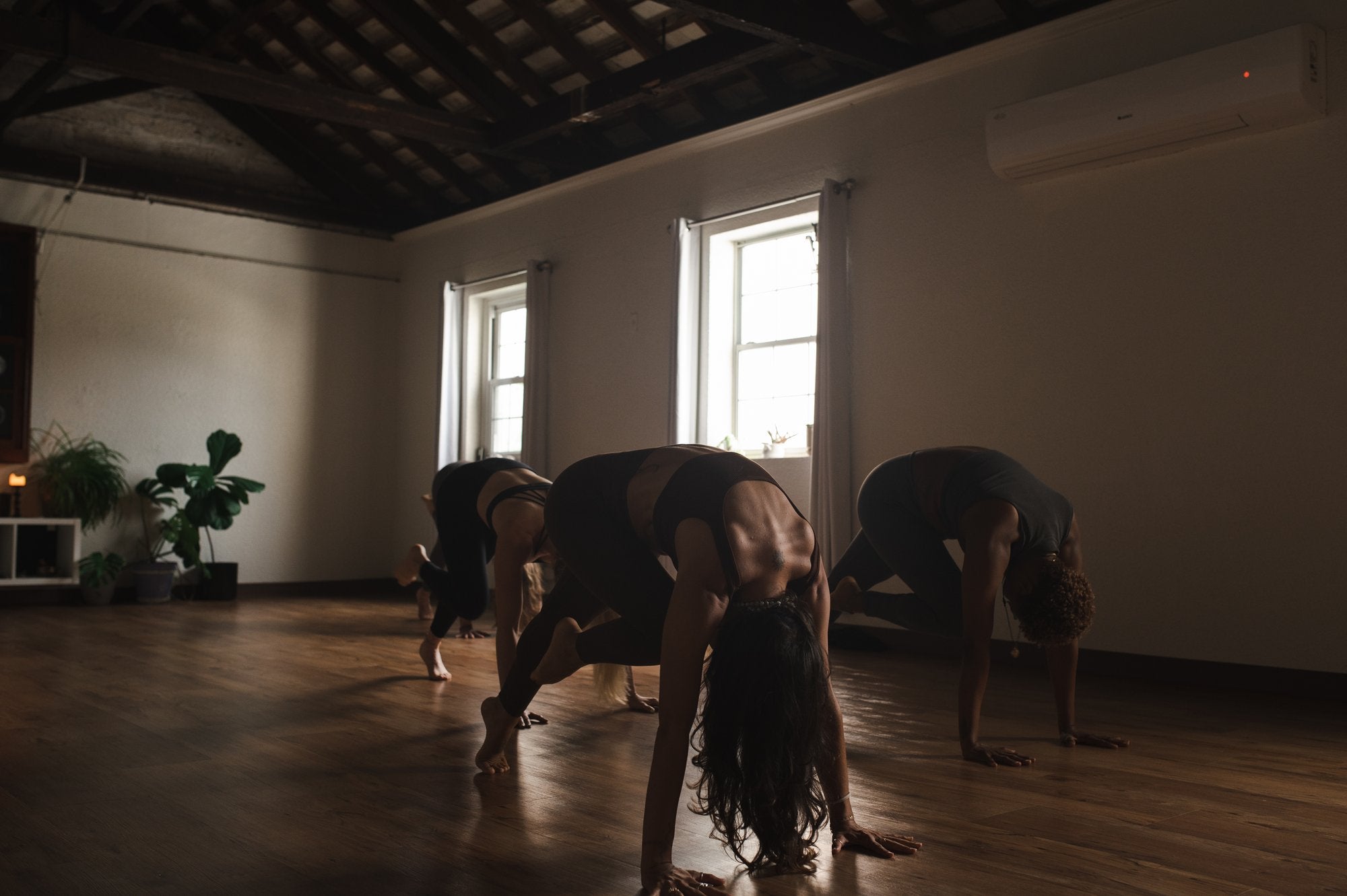 PRENATAL + POSTPARTUM
MAMABODY
this class was designed with your prenatal body in mind. prepare to learn about the importance of mindful connection to your pelvis, pelvic floor, abdominals and diaphragm in order to help you navigate your pregnancy and labour. we put tremendous importance on movement, maintaining your strength and understanding all of your options when it comes to birthing. this class is about standing in your power, trusting your body and understanding that you get to choose the birth that is best for your body and your baby.

remember, all SHAMANA METHOD classes are prenatal safe. we recommend in addition to MAMABODY you participate in CONNECTION, BALANCE + SPIRIT. you will be advised of other classes to attend based on your personal movement background and ability level.

length: 60 minutes
intensity: low to moderate
you will feel: educated, empowered and ready to watch your journey into motherhood unfold.
class created by Natalie Flood
book now
POST-MAMABODY
let's call it what it really is. we are so excited to welcome your POST-MAMABODY back into our space. 
we recommend waiting for a 6 week check with either a physio or your OB before practicing, BUT we invite you into our space as soon as you feel the need/ability to leave the house with your little one. this class is best suited for your body and baby until 12 months postpartum. we invite you to bring your baby, but also understand if you need this space alone. whatever is best for you, we will support. 
this session will be about bringing awareness to your postpartum body. you will re-learn proper and supported breath work technique, abdominal and pelvic rehabilitation through movement and the joy of getting back into your practice post baby. 
this is a safe, supportive space where breast feeding, bottle feeding and diaper changes are all welcome in our room. your baby WILL cry, and we will support you by holding space, holding your baby or being whatever it is you need on that day.
your teachers are birth doulas, postpartum doulas and all MAMABODY training graduates. we all understand how to support and will always be sure to ensure your needs are met. 
birth to 12 months.
length: 60 minutes
intensity: low to moderate
you will feel: supported, understood and relaxed.
class created by Natalie Flood
book now
DOULA SERVICES
part of your labour and birth support team. they are your personal reminder that what you have chosen for yourself, your body, and your family, matters. whether you are choosing a natural birth, or a medical intervention, it is important to have your needs, wishes and wants met. a doula will provide you and your partner with physical, mental and emotional support in the months leading up to and specifically on your birth day. they will help to explain and remind you of your choices so that your journey is the most informed as possible.

length: we offer 2 prenatal and 2 postpartum appointments.

Nat Flood + Bec Cottingham work together as a pair to provide this service. please inquire in person during MAMABODY class, or via instagram @natofshamana // @yogabirthbermuda
book an intake meeting